M28 - Pannoramic FLASH 250 II
System Description
http://www.3dhistech.com/pannoramic_250_flash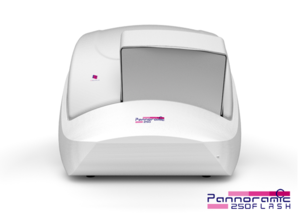 The M28 system is an automated, extremely fast, widefield microscope equipped with transmitted and fluorescent light source. It can be used to scan up to 250 slides in both transmitted and fluorescence. This systems comes with darkfield preview mode which is used to recognize samples to be scanned in the fluorescence as well as in the transmitted light mode. The advantages of this system are the constant illumination and white balance as well as the elimination of the operator induced error. The system can acquire Z-stacks and deliver maximum intensity projection (MIP) important for 3D structures.
As a result you get images of the whole sample (and not only of the "preferentially" selected area) that can be subjected to automated image analysis. The system can run on its own, no attendance needed.
Slides for the automatic scanner have to be prepared in a specific way.
Please ask the BioOptics staff for directions or refer to Protocols.
This system is exclusively operated by the BioOptics facility staff. It helps to automate your experiments and fits into the chain of - automated staining - imaging - image analysis.
Arrangement for scanning MUST be done with the Facility Staff - please book via JIRA Service Desk
Embedding medium for the slides to be scanned MUST be dried (see protocol) – don't put nail polish around the coverslip
Last minute scans will not always be possible, so please plan in advance!
Illumination
Sola Spectra – Solid state light engine WhiteLight LED for transmitted light
Filters
Singleband set
Ex 470/40nm Em 525/50nm
Ex 545/25nm Em 605/70nm
Ex 640/30nm Em 690/50nm
Objectives
20/0.8 plan-apochromat
40/0.95 plan-apochromat
Camera
CIS VCC FC60FR19CL – transmitted light – pixel size on the image 0,243094µm (20x objective) and 0,121547µm (40x objective)
PCO.edge – fluorescence – pixel size on the image – 0,3250µm (only 20x objective)