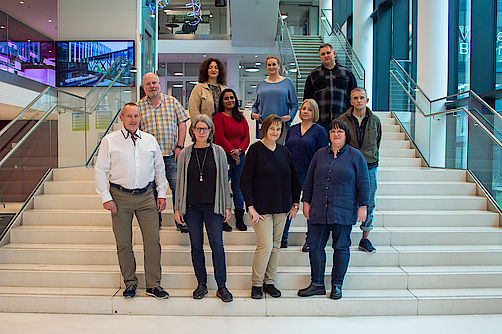 Common Lab Equipment
Fragment Analyzer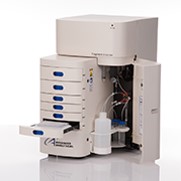 The Fragment Analyzer™ is a powerful instrument to cover the full spectrum of DNA, gDNA and RNA quality control by parallel capillary electrophoresis with fluorescence detection. Applications range from standard nucleic acid separations and quantification across the widest separation range to high-resolution analysis.
Benefits of the Fragment Analyzer™
•Run 12- or 96-capillary plates
•low hands-on time/sample
• Setup samples in one go (12-288 samples at onces)
•Resolves fragments from 10 bp to 40,000 bp
•Get resolution down to 2 bp for fragments
•Detection starts at 5 pg/μL
•quantification and qualification of NGS libraries, gDNA and RNA
• size analysis of fragments for SNP analysis
• flexible software for data analysis
QX200 Droplet Digital PCR (ddPCR™) System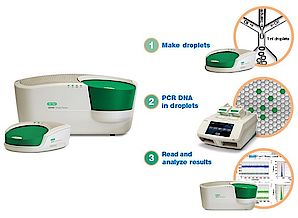 The QX200 Droplet Digital PCR (ddPCR™) System provides absolute quantification of target DNA or RNA molecules for EvaGreen or probe-based digital PCR applications.
A PCR reaction is set up comparable to real time experiments and divided into several thousand individual subreaction by generating droplets where only a fraction of droplets contain target sequence. After thermal cycling (endpoint PCR) each droplet of a reaction is analysed in a digital way (signal, no signal) directly leading to an absolute quantification.
Benefits of the QX200 Droplet Digital PCR System
• Very precise and sensitive digital PCR solution for a wide variety of applications
• Very robust due to the high number of individual reactions.
• Flexible digital PCR chemistry — optimized for TaqMan Hydrolysis Probe and EvaGreen Assays
• Droplet partitioning by the QX200 Droplet Digital technology reduces bias from amplification efficiency and PCR inhibitors
• Convenient assay design — standard curves are not required
Biotek Synergy 2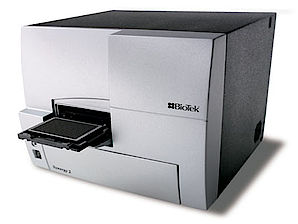 The Synergy 2 is BioTek's high-performance multi-mode plate reader designed for the life science research and drug discovery markets. Its fluorescence detection system uses deep blocking filters and dichroic mirrors for the best level of performance in research and screening applications. The dedicated absorbance detection system is monochromator-based, providing the best level of flexibility in this read mode. And, by utilizing dedicated optical elements for each individual detection technique, Synergy 2 offers uncompromised performance and the lowest limits of detection.
Detection modes include Fluorescence Intensity, Fluorescence Polarization, Time-Resolved Fluorescence, AlphaScreen, Luminescence and UV-visible Absorbance. Its three broad-spectrum light sources have been chosen for optimal illumination and excitation in all applications.
Synergy H1 Hybrid Multi-Mode Microplate Reader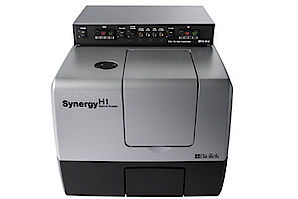 Synergy™ H1 is a flexible monochromator-based multi-mode microplate reader that can be turned into a high-performance hybrid system with the addition of a filter-based optical module. The monochromator optics uses a third generation quadruple grating design that allows working at any excitation or emission wavelength with a 1 nm step. This system supports top and bottom fluorescence intensity, UV-visible absorbance and high performance luminescence detection. It is the ideal system for all the standard microplate applications found in life science research laboratories.
Biorad CFX 384 Real Time Cycler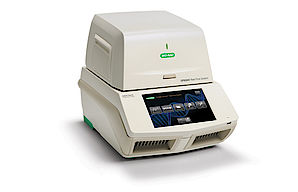 The CFX384 Touch real-time PCR detection system combines the C1000 Touch thermal cycler with the CFX384 optical reaction module to bring ease of use and rapid data acquisition to researchers performing high-throughput real-time PCR in a 384-well format. The CFX384 Touch system builds on the precise thermal control of the C1000 Touch thermal cycler to deliver the most sensitive, reliable detection for real-time PCR applications. Quickly set up runs and monitor amplification traces in real time on the integrated LCD touch screen. With up to four-target detection, unsurpassed thermal cycler performance, unrivaled stand-alone functionality, and powerful yet easy-to-use software, the CFX384 Touch system has been designed to advance your qPCR.
Key Features and Benefits
With the CFX384 Touch real-time PCR detection system you can:
Obtain precise quantification and multiplex target discrimination — optical system uses long-lasting solid-state technology with 5 filtered LEDs and 5 filtered photodiodes
Configure the system to fit your laboratory needs — optimized design lets you run without a computer, run up to 4 systems from 1 computer, or integrate with the CFX automation system for higher throughput
Confirm system performance and data reliability — internal system qualification and system test software, IQ/OQ, and automated data quality control
Obtain accurate results with volumes as low as 3 µl — minimize sample and reagent usage
Easily integrate with your laboratory information management system (LIMS) — integrate with any LIMS using built-in LIMS file management
Combine the CFX384 Touch system with good laboratory practice standards — use CFX Manager software, Security Edition, which complies with U.S. FDA 21 CFR Part 11 regulations, for data collection and analysis
NanoDrop 2000c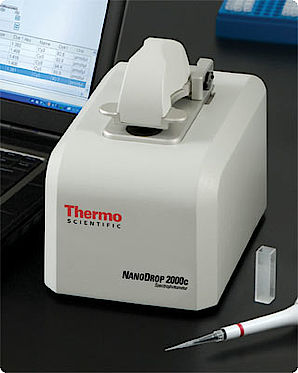 The NanoDrop 2000c is dual-mode UV-Vis Spectrometer with Micro-Volume and Cuvette Capability for Nucleic Acid and Protein Quantification.
Direct, easy measurements in less than 5 seconds – just
pipette & wipe
Full spectral output
Measures DNA, RNA (A260) and Protein (A280)
concentrations and sample purity (260/280 ratio)
Large concentration range (2 ng/µL – 15,000 ng/µL dsDNA) without dilutions
Pre-configured methods for common applications such as
Nucleic Acid, Protein A280, Microarray, Proteins & Labels,
Bradford, BCA, Lowry and Pierce 660 nm – and more
User-friendly software that includes Custom Methods and
data export capabilities
Simple self calibration check using control fluid – no
instrument adjustments
Low-cost operation – no plates or other consumables