September 14, 2020
Core Facilities News, BioOptics
Online-Introduction to Image Analysis with ImageJ/Fiji
02.Nov. – 6.Nov. 2020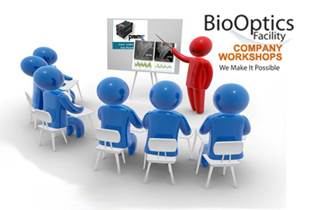 This November the Biooptics facility invites you to a five-day introductory course on Image Analysis using ImageJ/Fiji. The course will be held online via Microsoft Teams.
ImageJ is an open source, community based image analysis software and a powerful tool for handling your (microscopy) image data.
In this course, we will give an overall introduction to the creation, properties and handling of digital images. We will cover a range of basic processing tools to be used within an analysis pathway for obtaining relevant biological data. A mixture of theory and hands-on exercises will enable you to use ImageJ/Fiji for your own projects. Information on hints and pitfalls will be given along the way.
This is a beginner's course, no prior knowledge is needed.
Schedule: The course will be from Monday, Nov 2nd, to Friday, Nov 6th. Each day it will go from 9:15 am to 2:15 pm, with a 1h break (see attached schedule)
Application: Please apply by signing up in the doodle (doodle.com/poll/isp2aqhw44zkty4r). Also note that full attendance to the entire course program is expected.
What you need: A computer with a good internet connection is required. A microphone for audio connection is not essential but beneficial. After registration you will receive a download link for the Fiji software and all course files. The basic tools we use in this course are implemented in the Fiji-version the IT is providing. Additional plugins are easily installed on PC. On Mac you might need special admin rights and therefore the help of IT.
For questions about the course, please write to biooptics-course(at)imp.ac.at