May 18, 2017
Core Facilities News, BioOptics
BioOptics Clinic
a problem-solving meeting or one at which participants acquire knowledge or skills - We want to achieve both!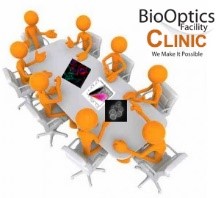 We would like to invite you to the Kick-off-meeting of our new, monthly BioOptics Clinic taking place the first time on May 18th at 9:30 in room E-016 covering the topic "AiryScan FAST".
The aim of the BioOptics Clinic is to provide an additional room and time for discussion of projects, difficulties and problem solving strategies in order to improve your work and to learn from each other. There will always be microscopy, imaging and flow cytometer experts present, so please bring your images, questions and ideas.
Every meeting will introduce a short topic (15-20min) concerning FACS, microscopy or image analysis, which will expand your knowledge and hopefully will be useful for your future experiments.
Just drop by, we hope to see many of you there!!
Kick-Off- Meeting:
Thursday, May 18th 9:30 at E-016 behind the IMP reception
Topic of introductory talk:
"AiryScan FAST– a new confocal technology for fast and sensitive confocal imaging available at the BioOptics Facility".
Abstract:
There is a new imaging mode available at the BioOptics facility – The AiryScan high resolution detector with the FAST mode. With this, ZEISS implemented the next innovation step for laser-scanning microscopy imaging.
The new concept combines the Airyscan pinhole-plane detection technology with a new illumination shaping approach, enabling a fourfold increase in image acquisition rates. With the new Fast mode, Airyscan now affords researchers simultaneous access to super-resolution, increased signal-to-noise ratio and increased acquisition speeds without compromise. Nature Methods 13 (2016), www.nature.com/nmeth/journal/v13/n11/full/nmeth.f.398.html