M44 - Spinning Disk Confocal Olympus (inverted) with incubation/Superresolution (SoRa)
System Description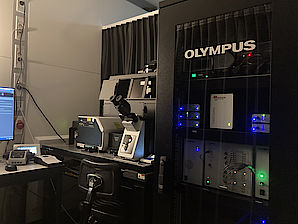 The M44 Olympus spinning disk confocal is based on an Olympus IX3 Series (IX83) inverted microscope, equipped with a Yokogawa W1 spinning disk (SD). All components are controlled by CellSense software.
The system is able to run multidimensional experiments including any combination of the following: multiple positions, multiple wavelengths, Z-stacks, time-lapse. There is also a Olympus Z-Drift Compensation (ZDC) hardware autofocus system for long-term stabilization.
This makes it suitable for various live experiments or the automatic acquisition of a large amount of images (screening).
Additionally, an extra disk is installed to deliver images with up to 2-times enhanced spatial resolution, using super-resolution optical photon reassignment (SoRa) technology.
Illumination
LED: 400nm, 465nm, 565nm
Transmitted Light LED illumination
Lasers for SD
405nm
488nm
514nm
561nm
640nm
Filters
Filters Vis:
Ex 365/50; Em LP 397; BSP 395
Ex 480/20; Em 530/40; BSP 495
Ex 540/20; Em LP575; BSP 570

Filters SD-Emission:
447/60
525/50
578/105
617/73
685/40
Dichroic for spinning disk
445/514/640
405/488/568/647
Objectives
4x/0.16 (Air) WD 13mm
10x/0.4 (Air) WD 3.1mm
20x/0.8 (Air) WD 0.6mm
40x/0.75 (Air) WD 0.5mm
40x/1.25 (Silicon Oil) WD 0.3mm
100x/1.45 (Oil) WD 0.13mm

On request
4x/0.16 (Air) WD 13mm
10x/0.3 (Air) WD 10mm
20x/0.5 (Air) WD 2.1mm
30x/1.05 (Silicon Oil) WD 0.8mm
40x/1.4 (Oil) WD 0.18mm
60x/1.42 (Oil) WD 0.15mm
20x/0.7 (Water) WD 0.35mm
60x/1.2 (Water) WD 0.28mm