M31 - Visiscope Spinning Disk Confocal with Incubation and FRAP unit
System Description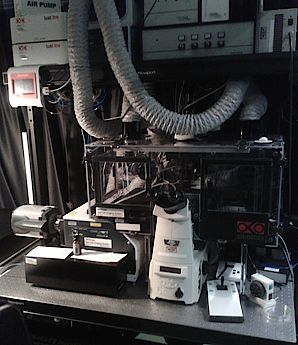 The M31 Visiscope Spinning Disc Confocal (Visitron SystemsGmbH, Puching, Germany) is based on a Nikon Eclipse Ti E inverted microscope, equipped with a Yokogawa W1 spinning disc (SD) allowing fast confocal acquisition. All components are controlled by the Visiview software. Visiview is Python-based and is fully scriptable.
The system is able to run multidimensional experiments including any combination of the following: multiple positions, multiple wavelengths, z-Stacks, time-lapse. This makes it suitable e.g. for various live cell experiments or the automatic acquisition of a large amount of images (screening).
The Nikon microscope stand is equipped with the TI-ND6-PFS Perfect Focus System, a reflection-based autofocus that keeps the focus from drifting over time, even in the presence of temperature shifts.
In addition to spinning disk acquisition, a FRAP-unit can be used for localized illumination via laser point scanning. This allows for FRAP and photoactivation experiments with fast spinning disk acquisition.
The system is adapted for slides, 30 mm dishes and well-plates (for plates, a special sample holder needs to be installed).
CAUTION: Labtek chambers cannot be used! Please substitute with Ibidi multiwall chambers.


Illumination
Lumencor-Sola LED: 400nm, 465nm, 565nm
White Light LED
Laser for SD
405nm 120mW
488nm 200mW
561nm 150mW
640nm 150mW
Filters
Filters Vis
Ex 400/20nm Em 460/40nm
Ex 470/40nm Em 525/50nm
Ex 562/40nm Em 624/40nm

Filters SD-Emission
Dapi 460/50
GFP 525/50
GFP 500 LP
mCherry 609/54
mCherry 580 LP
CY5 700/75
Objectives
10x/0.45 plan-apochromat 20x/0.75 air CFI plan Apo lambda 40x/1.3 plan-fluor 60x/1.4 oil CFI plan Apo lambda 60x/1.2 WI water Plan Apo VC 100x/1.45 oil CFI plan Apo lambda 40x/0.95 air CFI plan Apo lambda (installed only on demand)
Additional Devices
Incubation chamber with heating and CO2 (sample chamber only)