F12 - iQue Screener Plus
System Description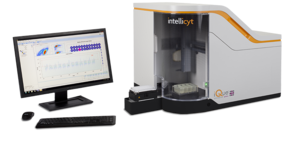 The iQue Screener platform is an integrated instrument, software and reagent system that enables rapid, high content, multiplexed analysis of cells and beads in suspension in a plate format.
It utilizes a unique patented sample introduction method that minimizes sample size requirements and features 15 detection channels, including 13 fluorescence and 2 scatter detectors.
ForeCyt® Software offers plate-based screening analysis tools, such as dose response curves, heat maps with hit identification, and high content well scanning with dynamic data linked visualizations.
Laser 1
405 nm Violet Laser
Detection
VL1 - 445/45 nm - AF 405, BFP, BV 421, Cascade Blue, DAPI, Hoechst 33342, Pacific Blue
VL2 - 530/30 nm - AF 430, AmCyan, Ametrine, BD Horizon V500, BV 510, QDot 565
VL3 - 586/20 nm - BV 570, Pacific Orange, QDot 605
VL4 - 615/20 nm - BV 605
VL5 - 660/20 nm - BV 650, QDot 655
VL6 - 780/60 nm - BV 786, QDot 800
Laser 2
488 nm Blue Laser
Detection
BL1 - 530/30 nm - AF 488, FITC, GFP, Venus, YFP
BL2 - 615/20 nm - Texas Red, PI
BL3 - 660/20 nm -
Laser 3
561 nm Yellow Green Laser
Detection
FSC, SSC
YL1 - 582/15 nm - DsRed, PE, tdTomato
YL2 - 610/20 nm - Living Colors, mCherry, mRaspberry, PE-Texas Red, PI
YL3 - 670/30 nm - 7-AAD, PE-Cy5
YL4 - 780/60 nm - PE-Cy7