M29 - Pannoramic SCAN 150
System Description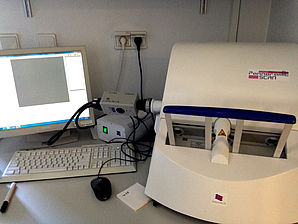 The M29 system is an automated widefield microscope equipped with transmitted light. It can be used to scan up to 150 slides. The advantages of this system are the constant illumination and white balance as well as the elimination of the operator induced error. The system can acquire Z-stacks and deliver maximum intensity projection (MIP) important for 3D structures.
As a result you get images of the whole sample (and not only of the "preferentially" selected area) that can be subjected to automated image analysis. The system can run on its own, no attendance needed.
Slides for the automatic scanner have to be prepared in a specific way. Please ask the BioOptics staff for directions or refer to Protocols. This system is exclusively operated by the BioOptics facility staff. It helps to automate your experiments and fits into the chain of - automated staining - imaging - image analysis.
Illumination
WhiteLight LED for transmitted light
Objectives
20/0.8 plan-apochromat 40/0.95 plan-apochromat